Inspired by the architecture of La Grande Motte, we gave birth to a collection of objects that revisits the icons of the seaside, symbols of holidays for everyone. Umbrellas, flip flops, towels, sunglasses, beach buckets, buoys, have become so many subjects to reinvent a popular lifestyle.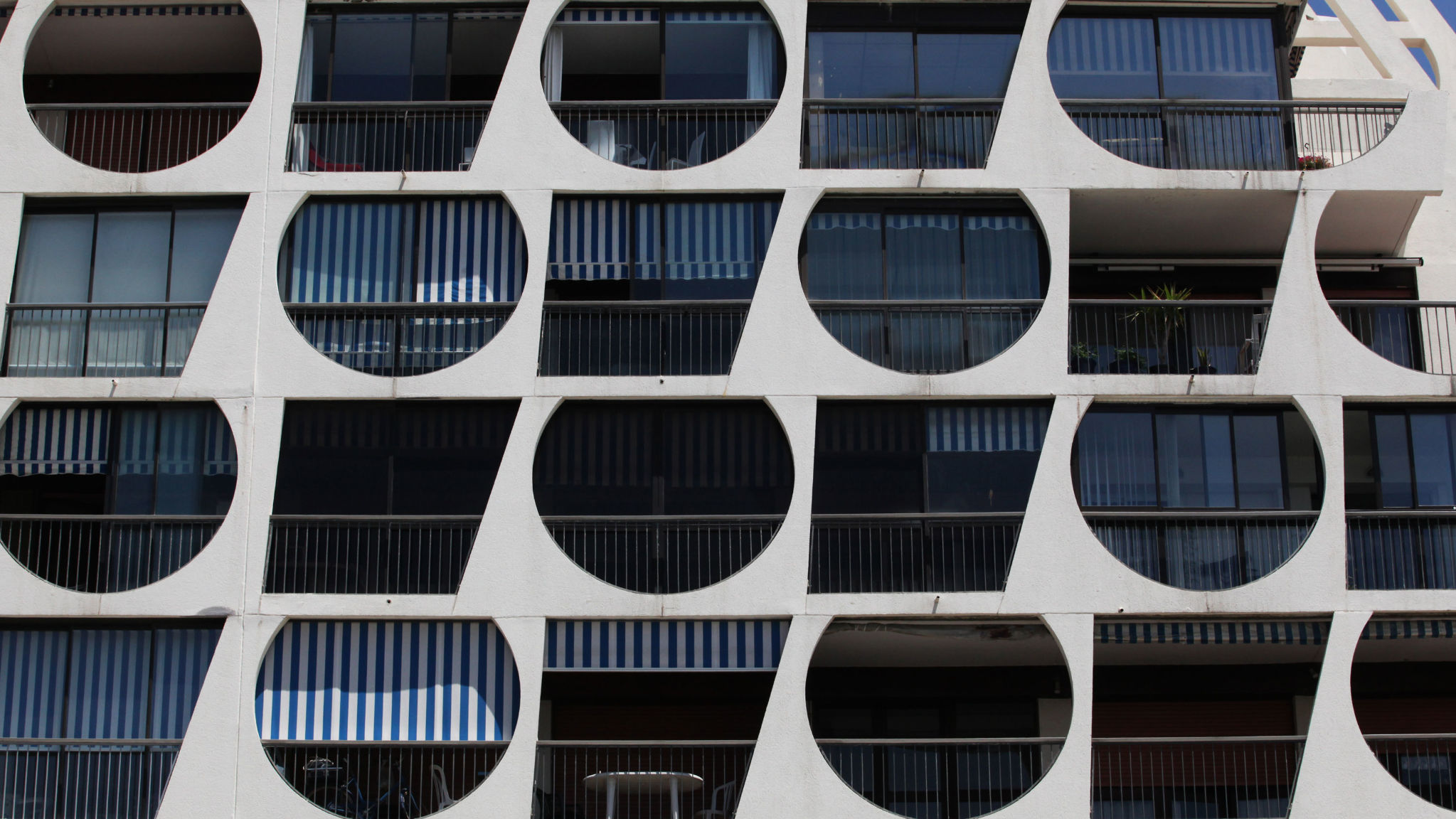 The exhibition of the collection was presented during the summer 2017 at La Grande Motte. The set up has taken the form of an ephemeral beach hut allowing visitors to discover a new art de vivre directly feet in the sand.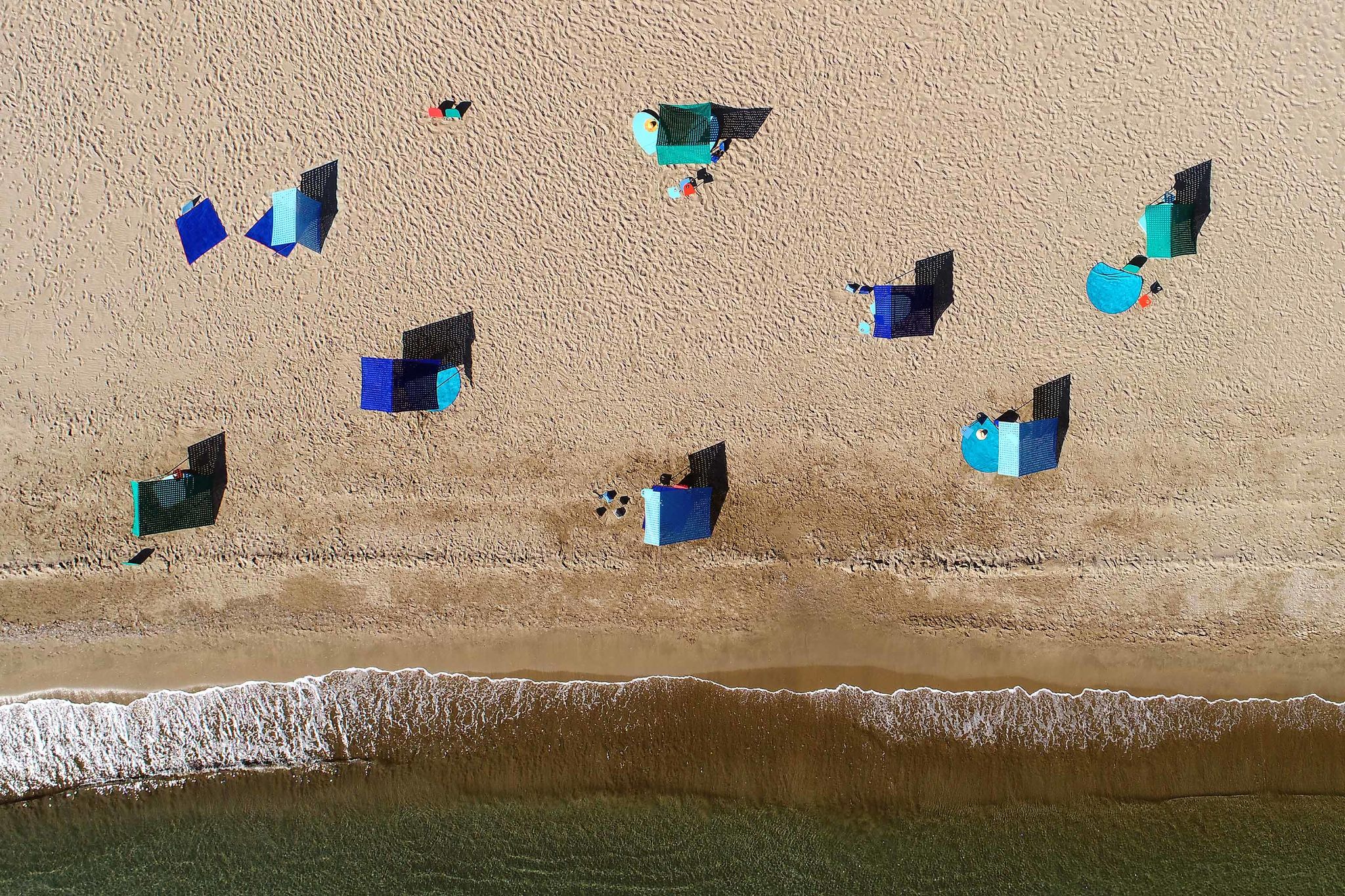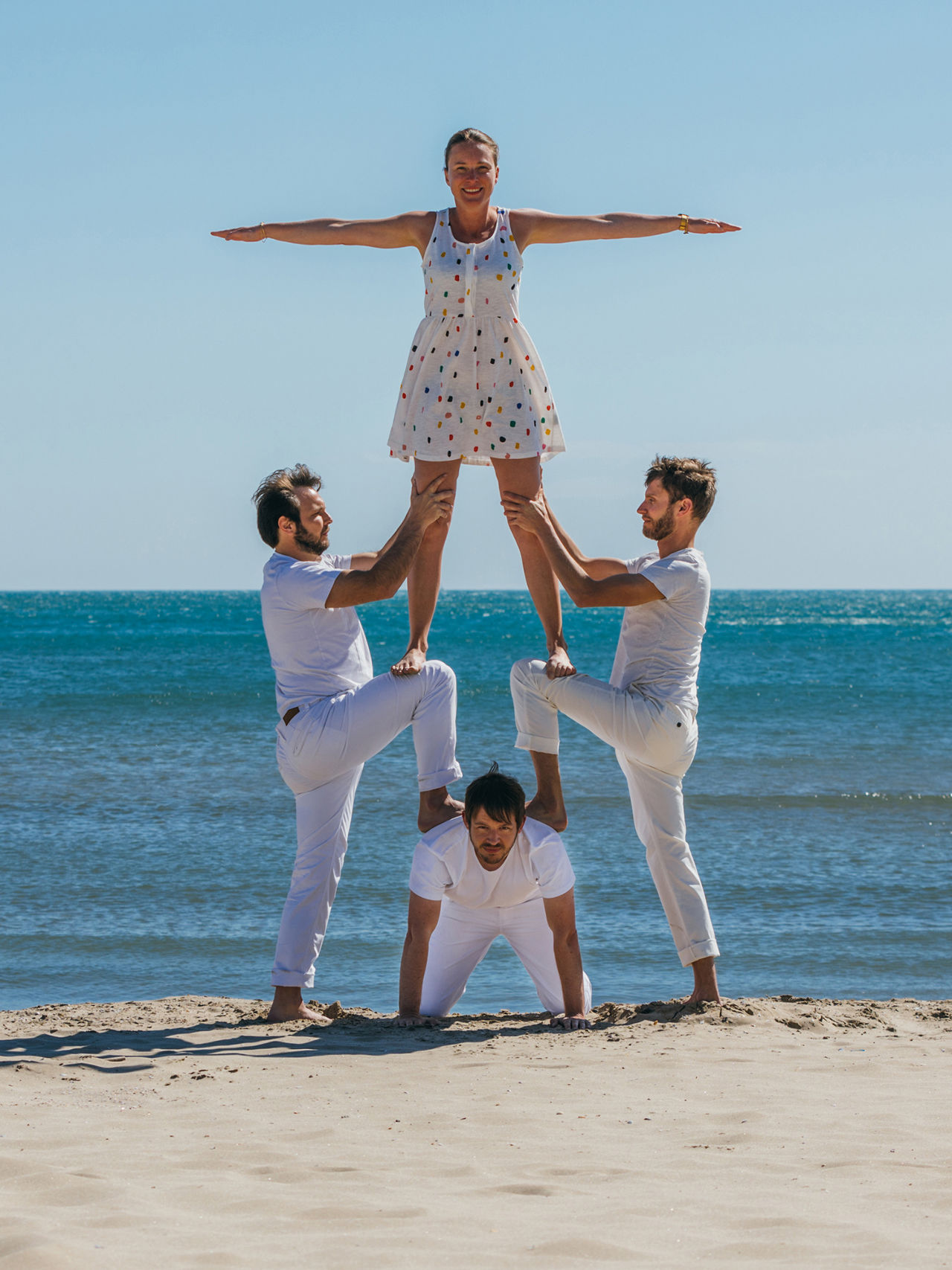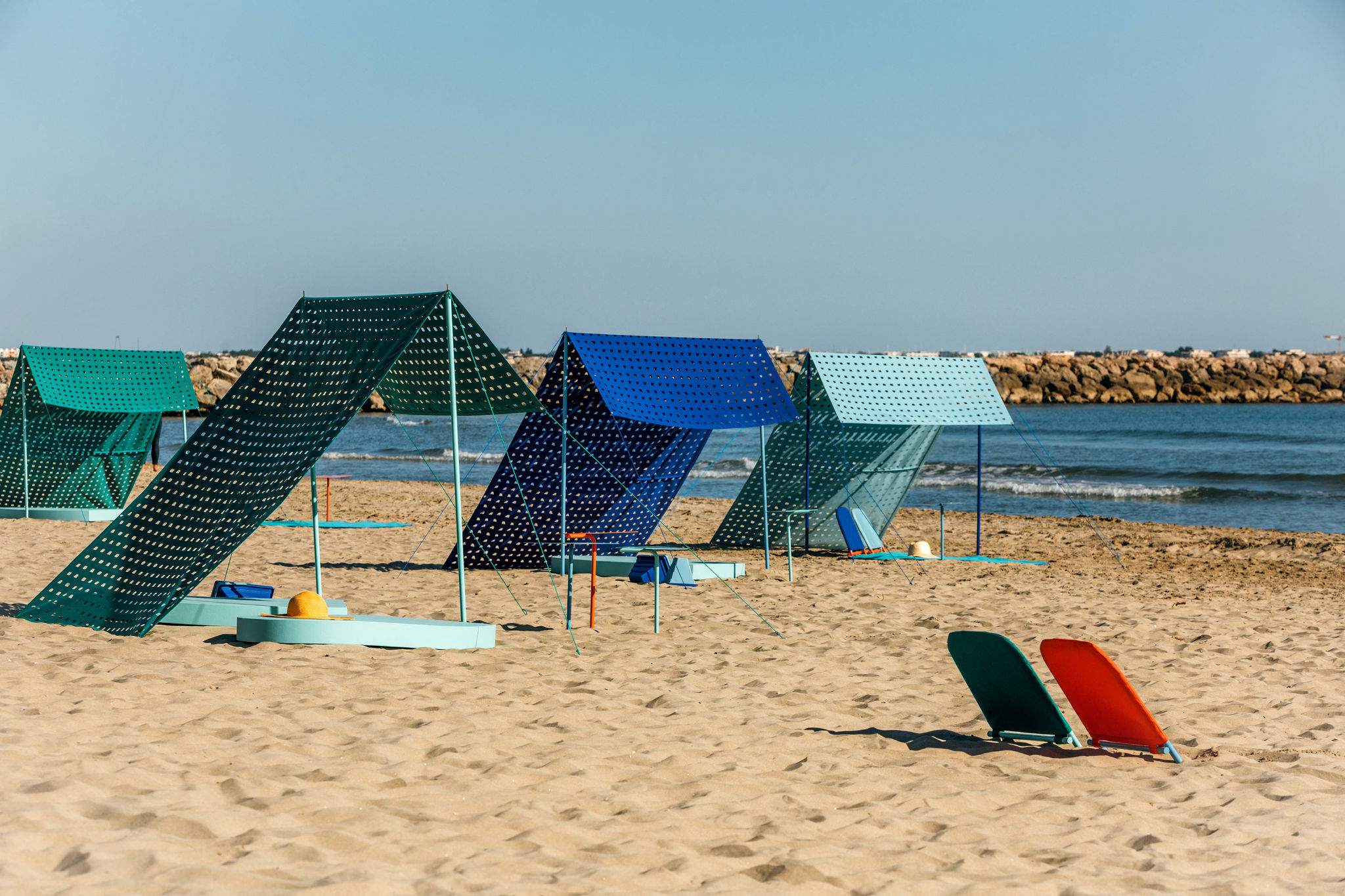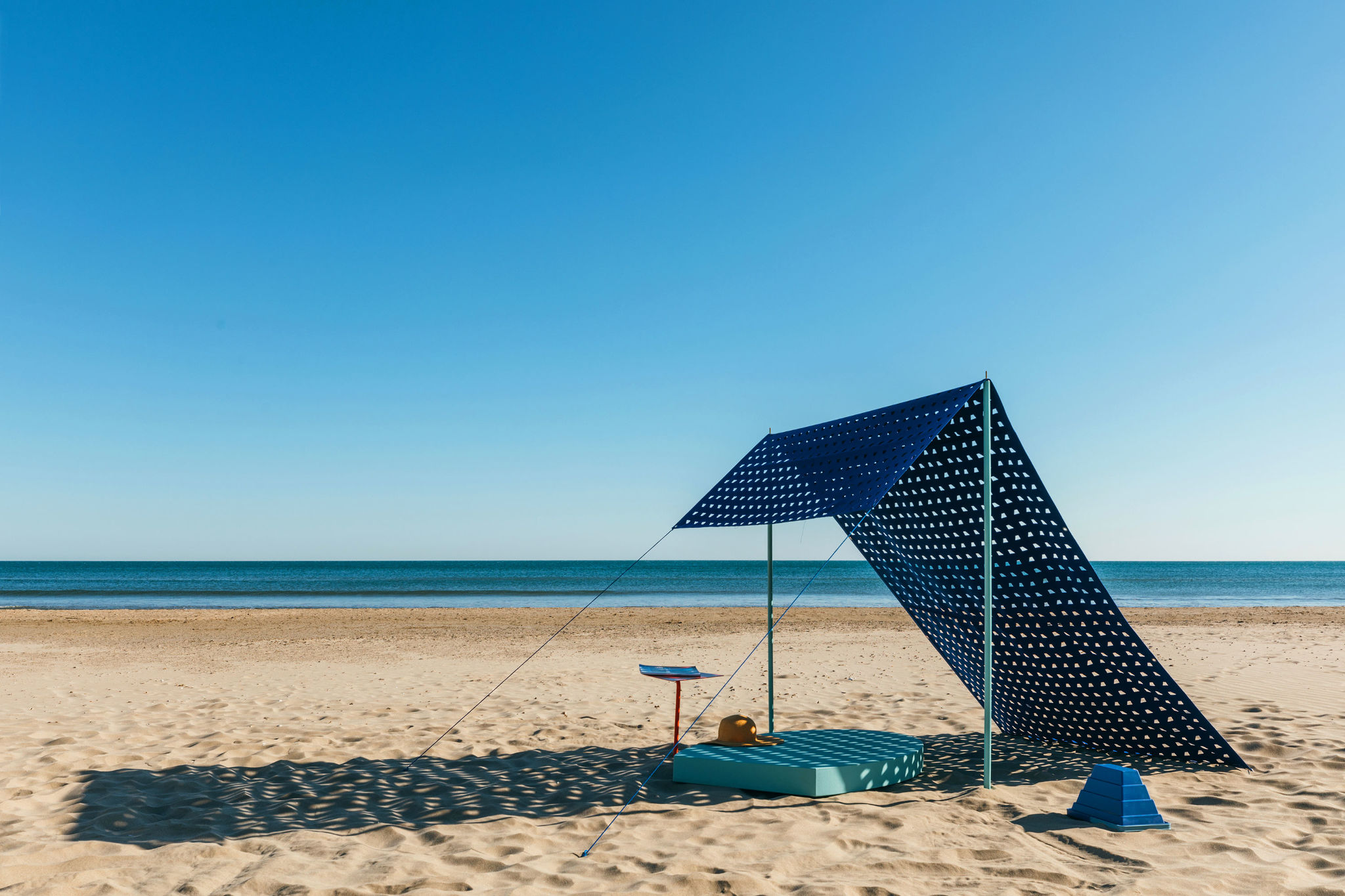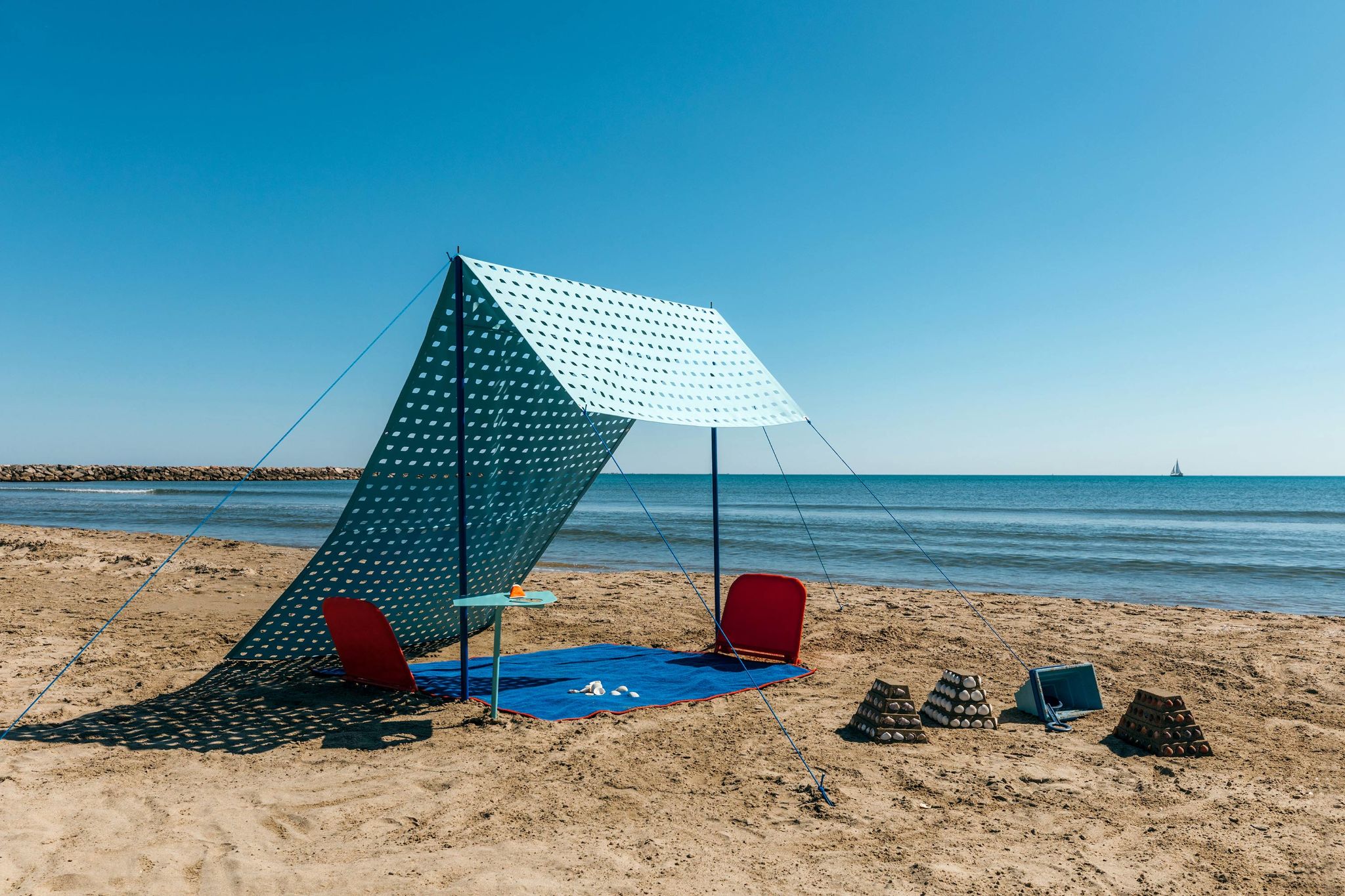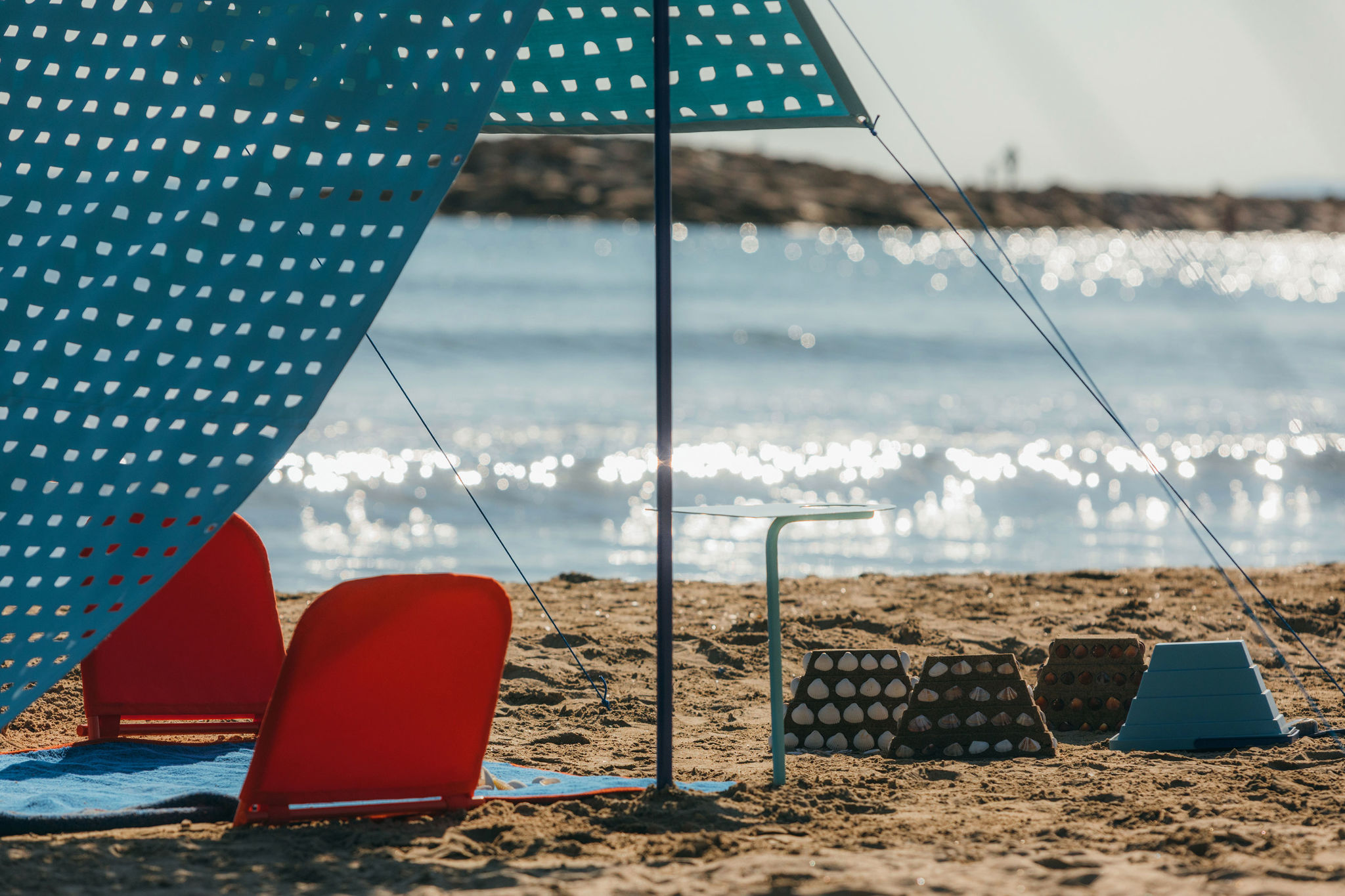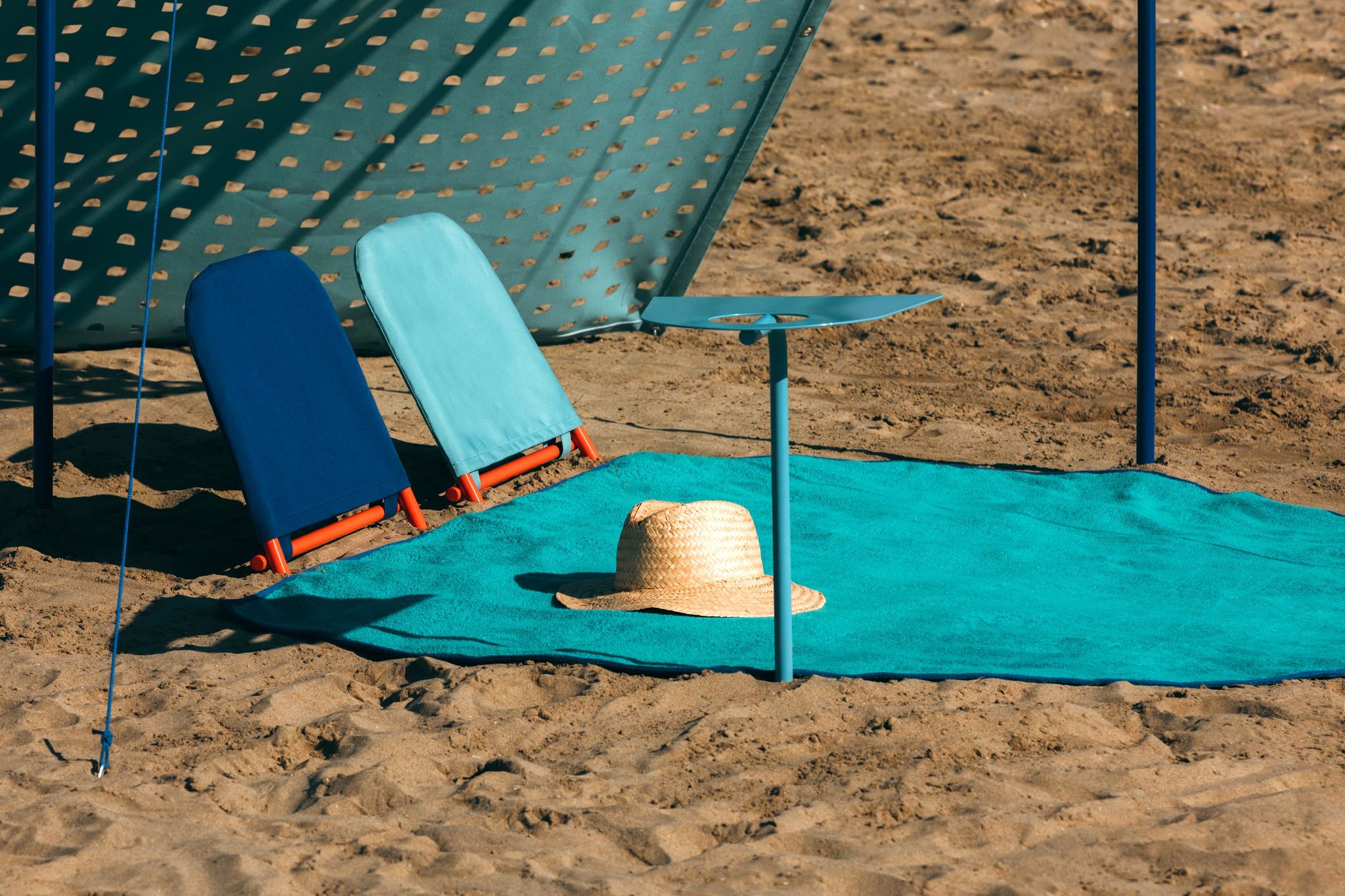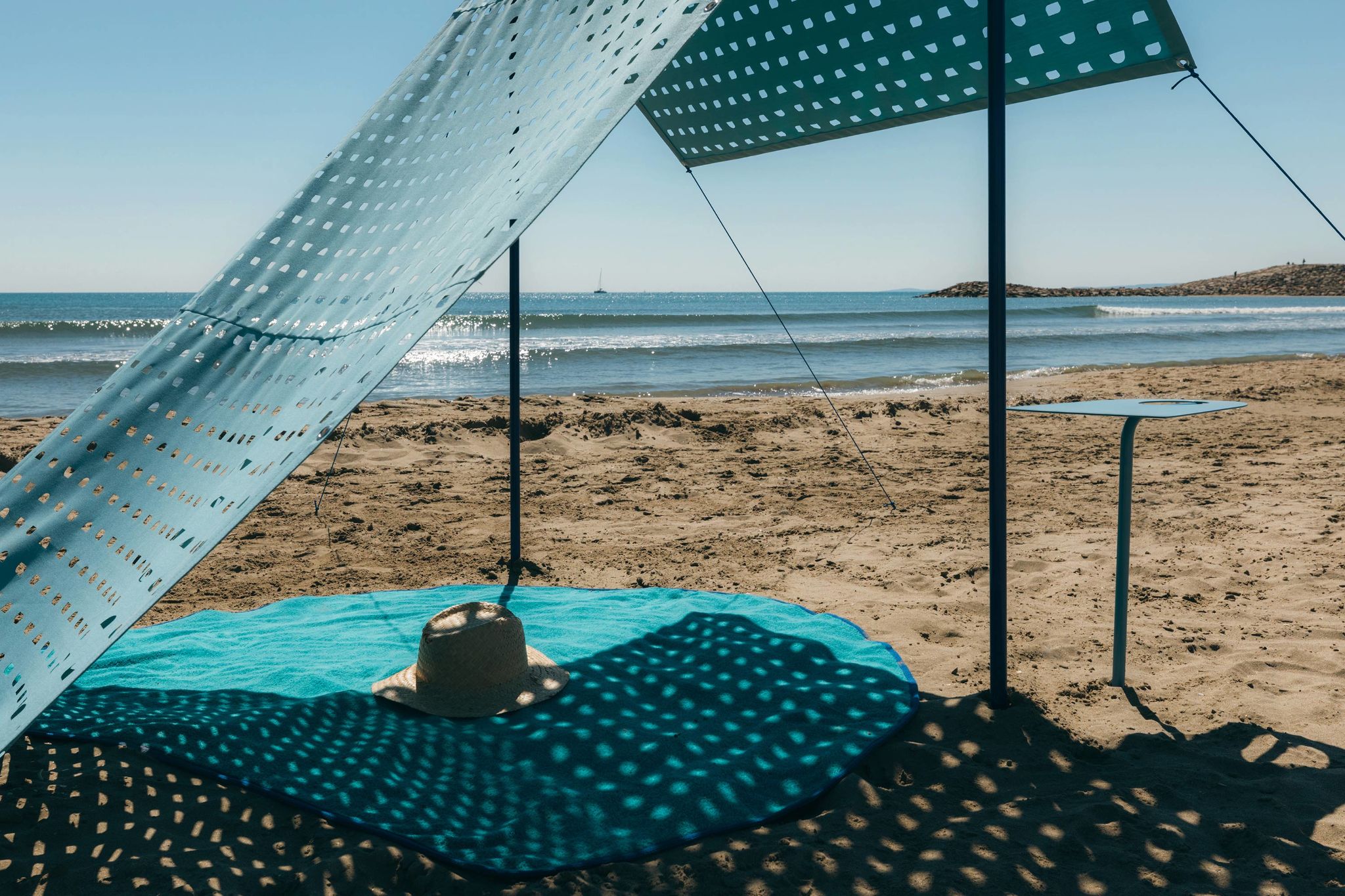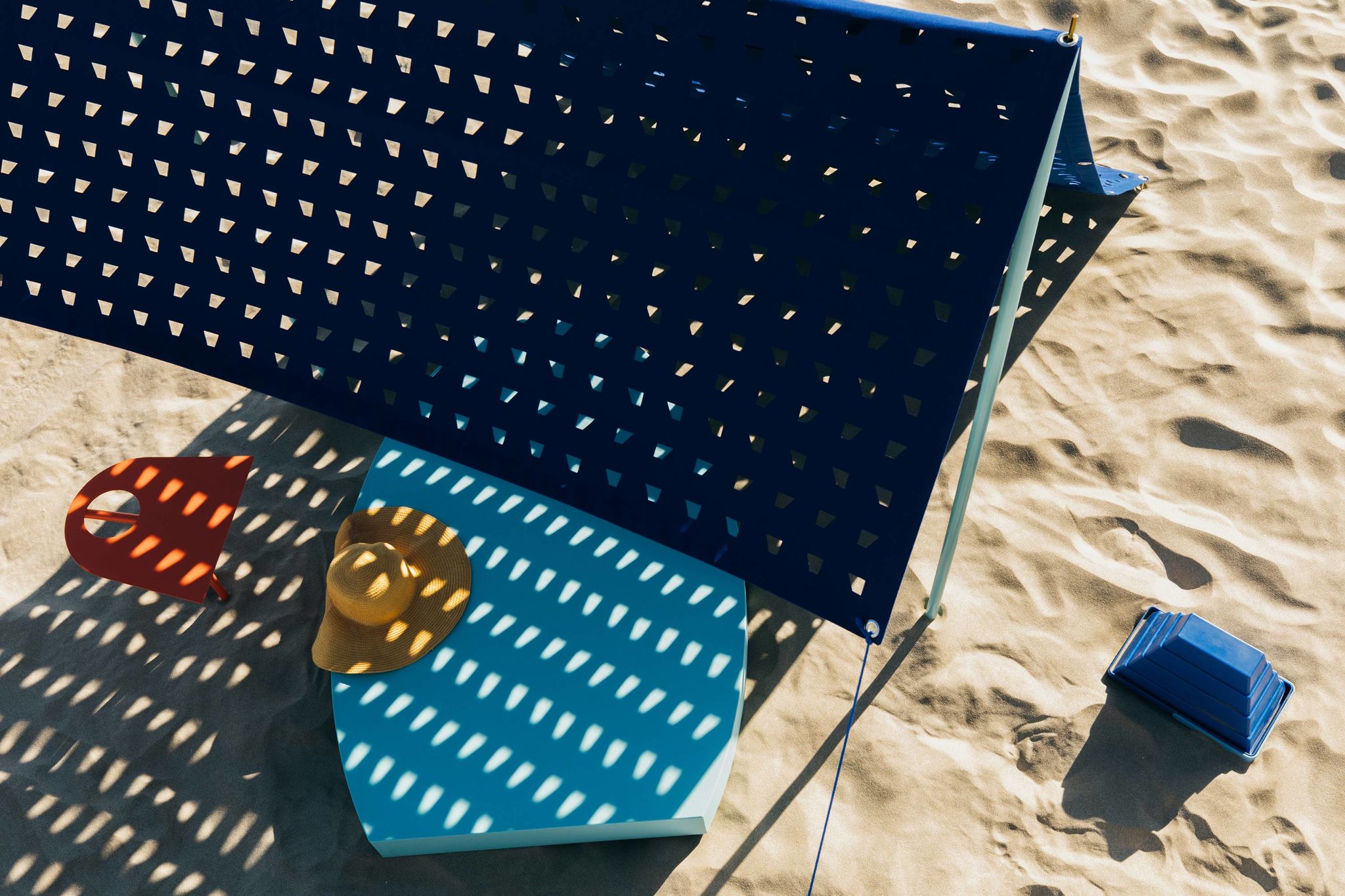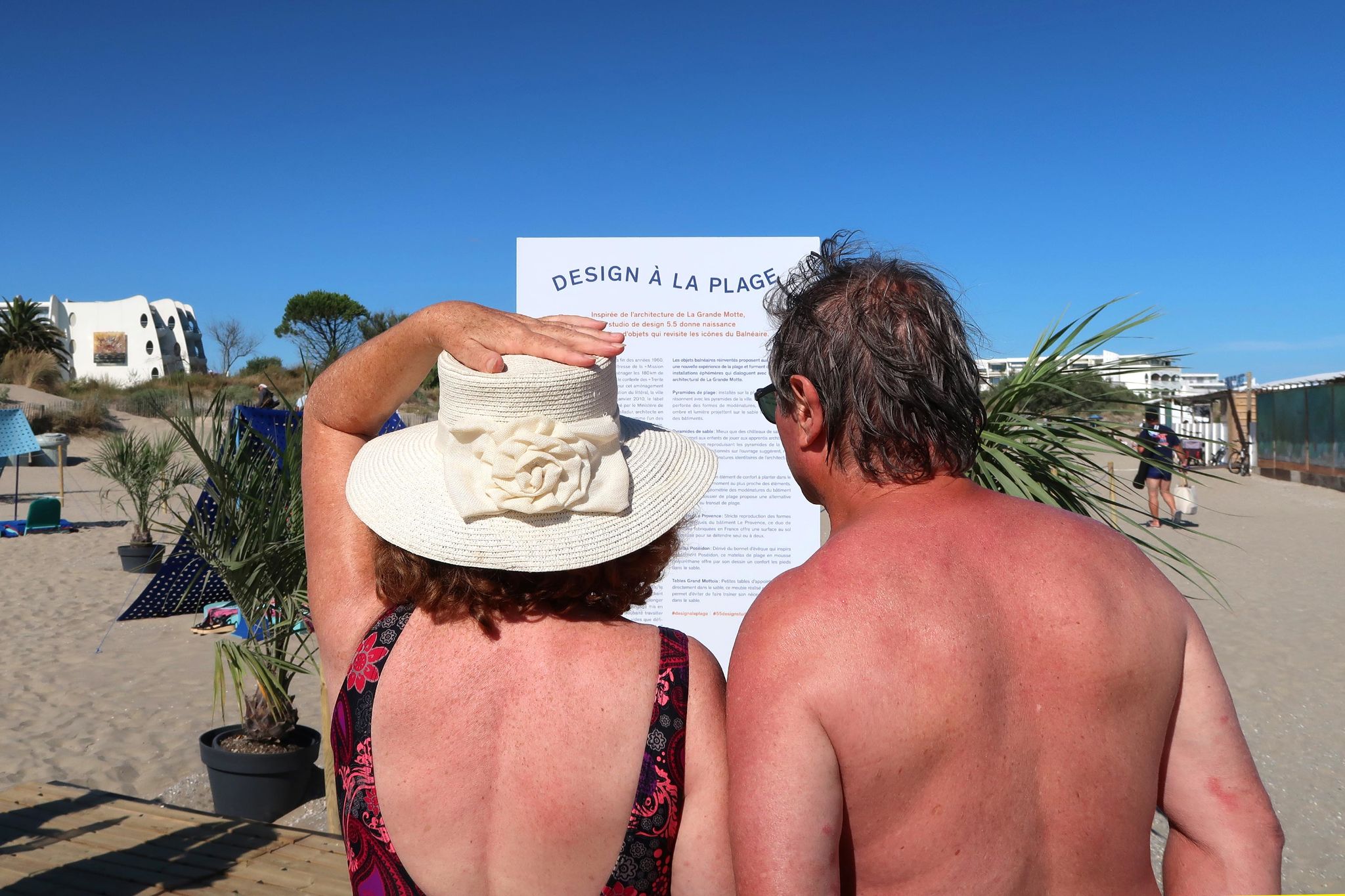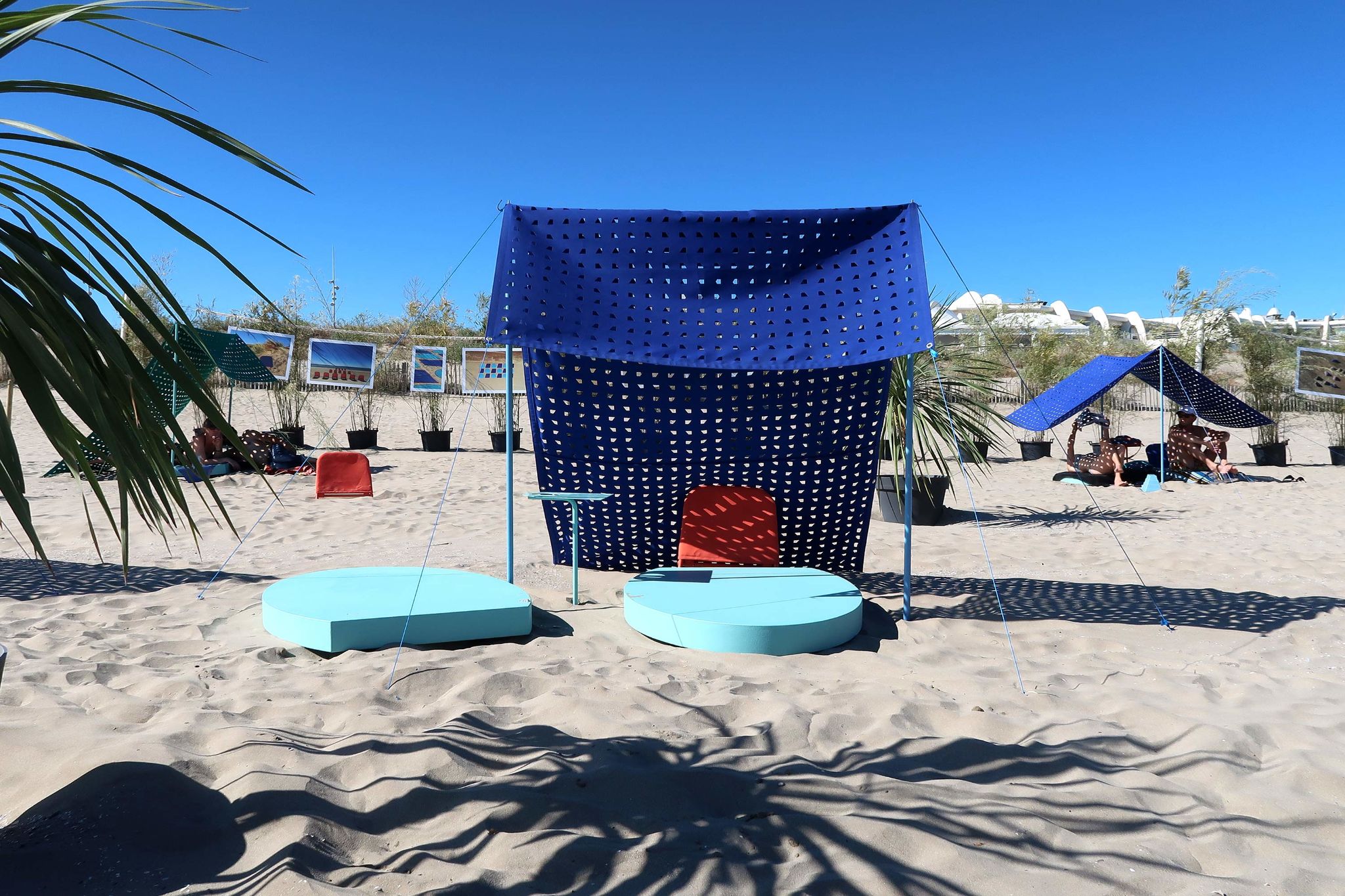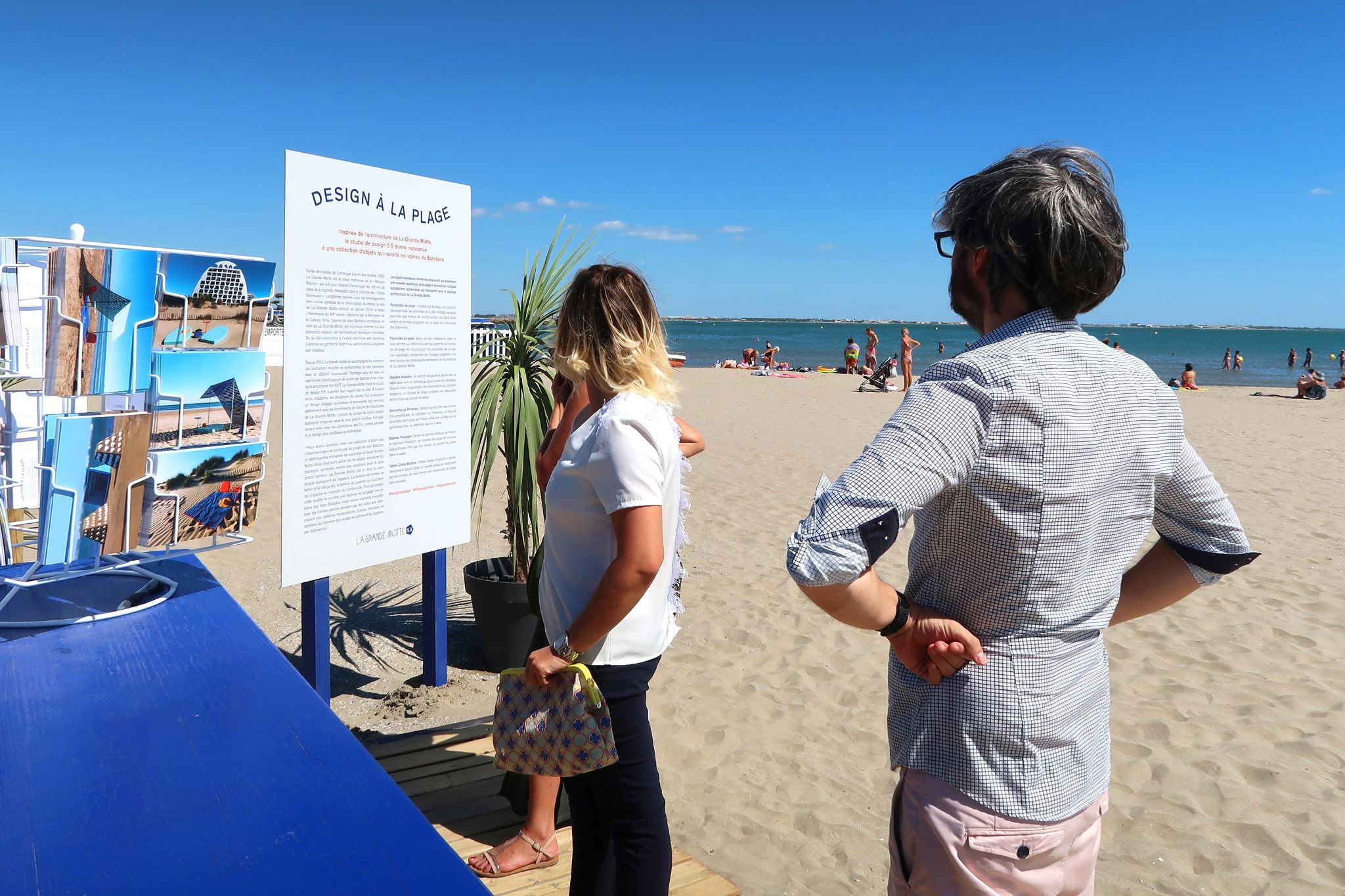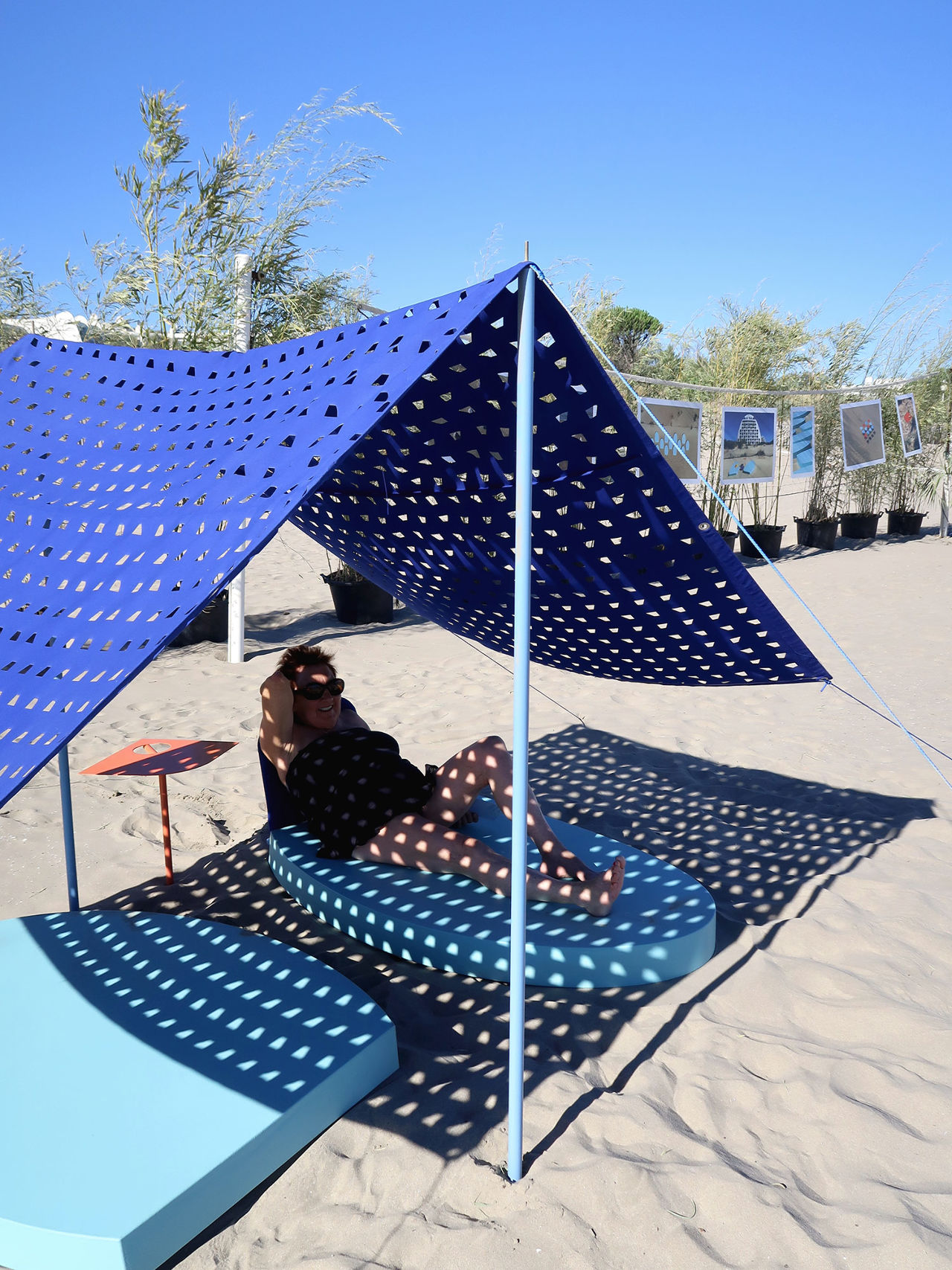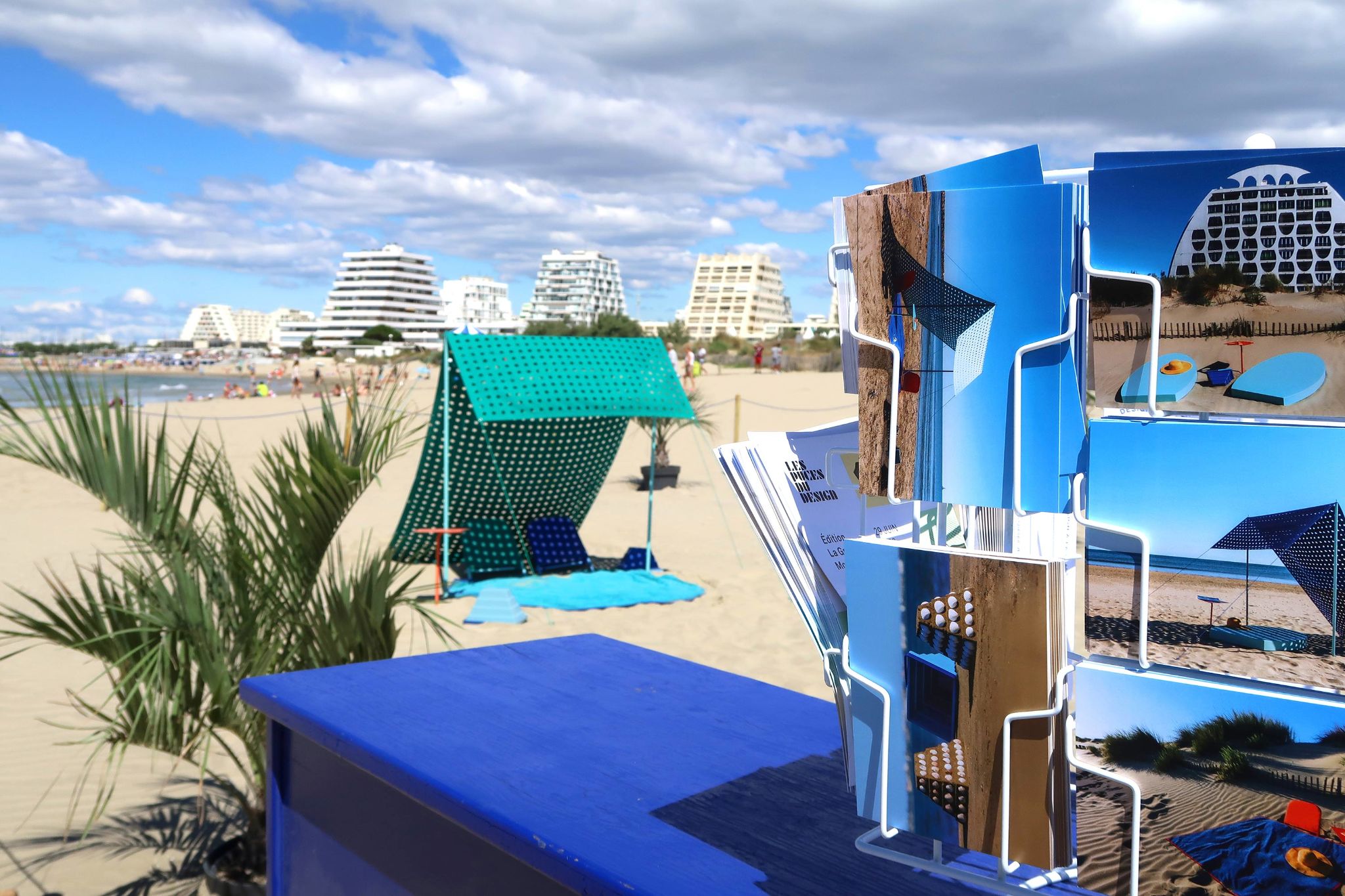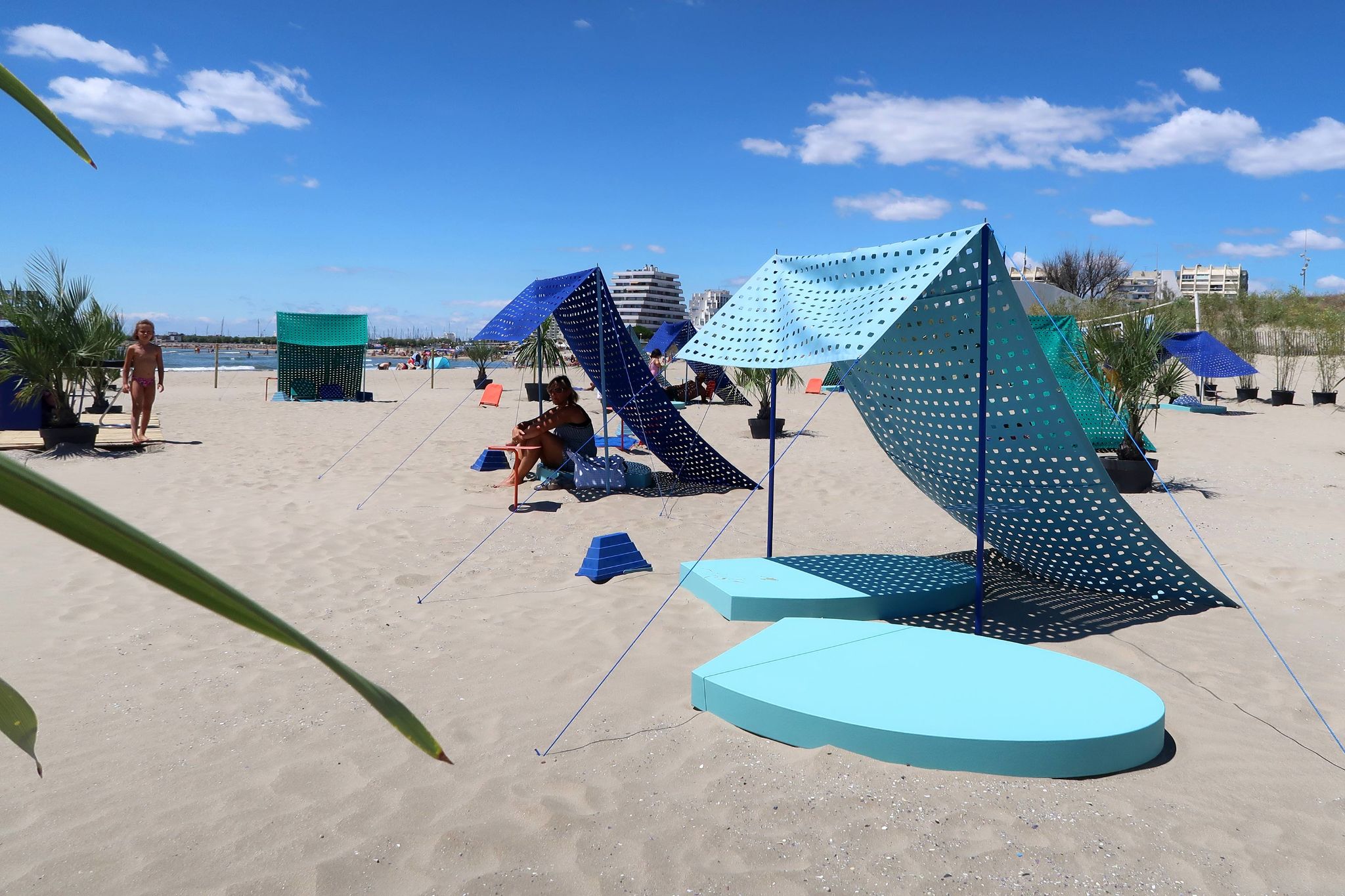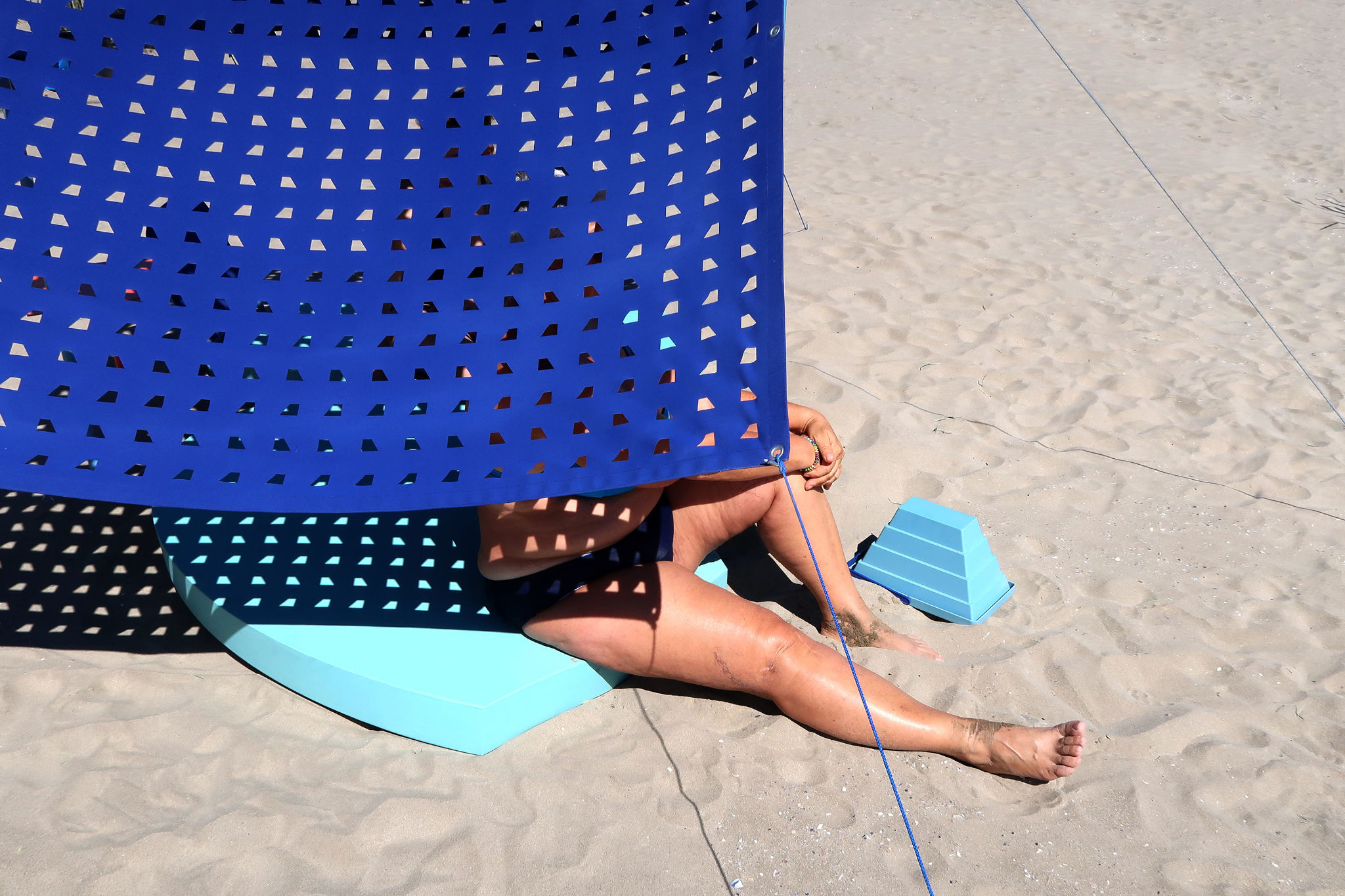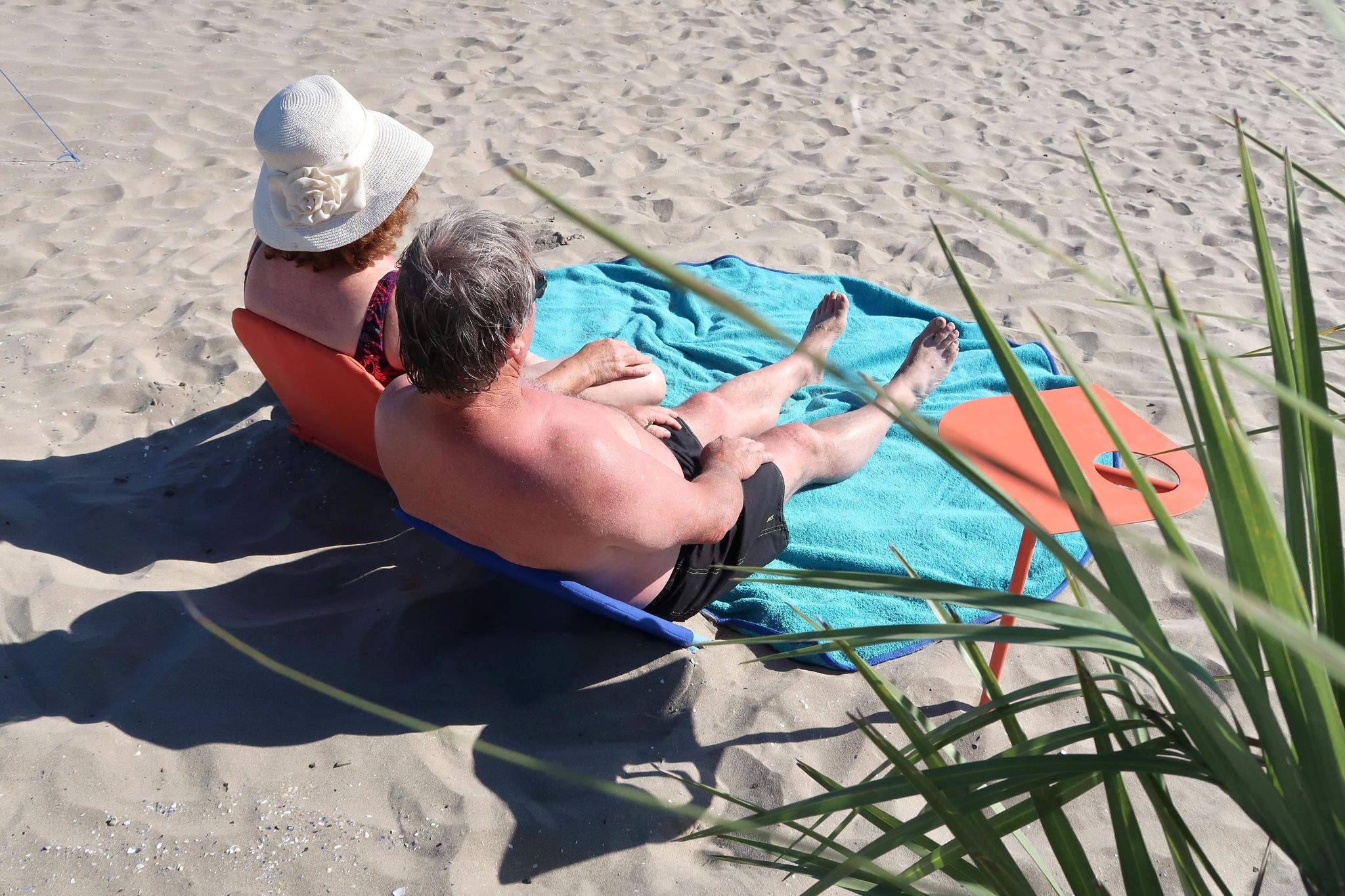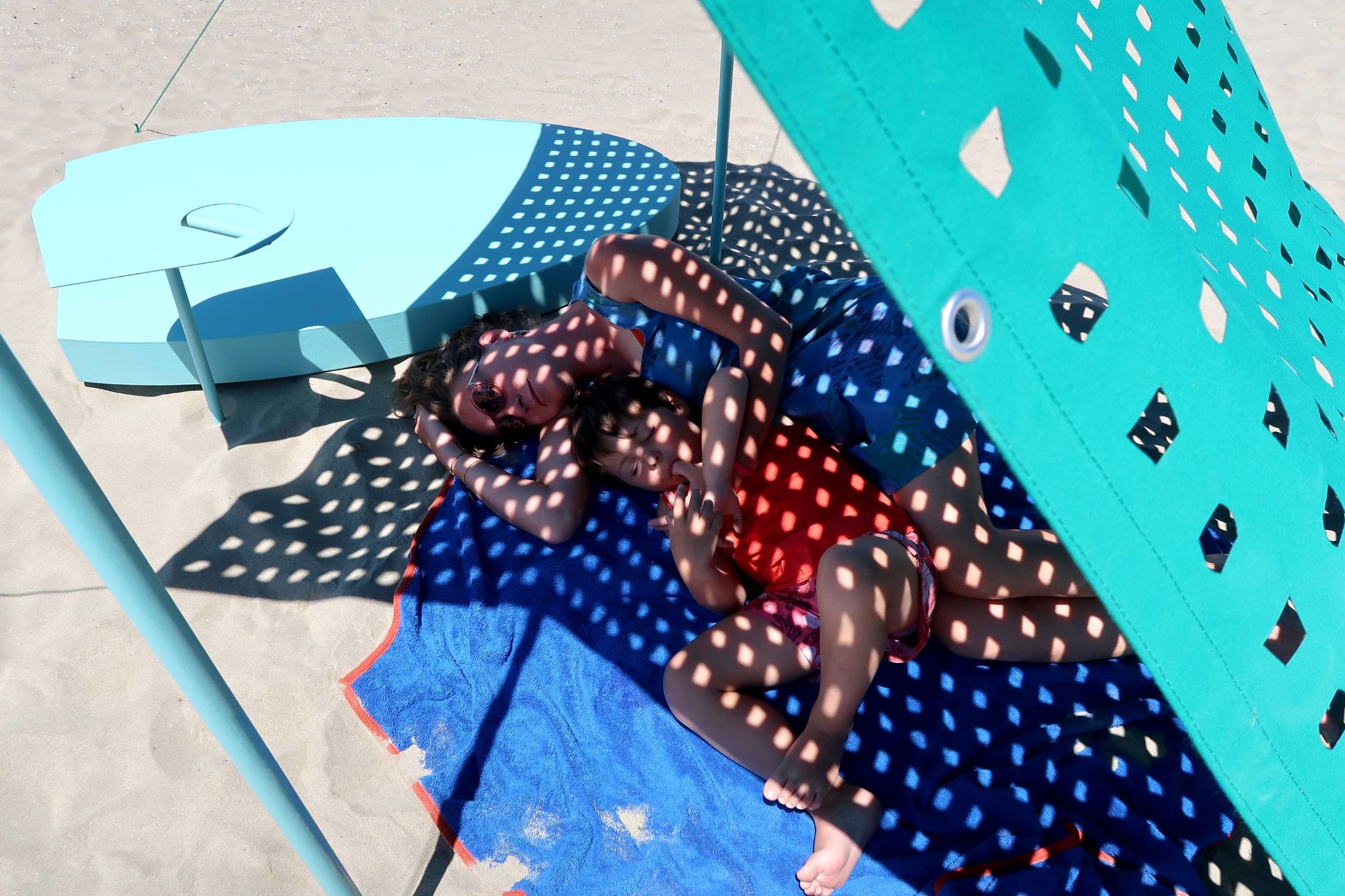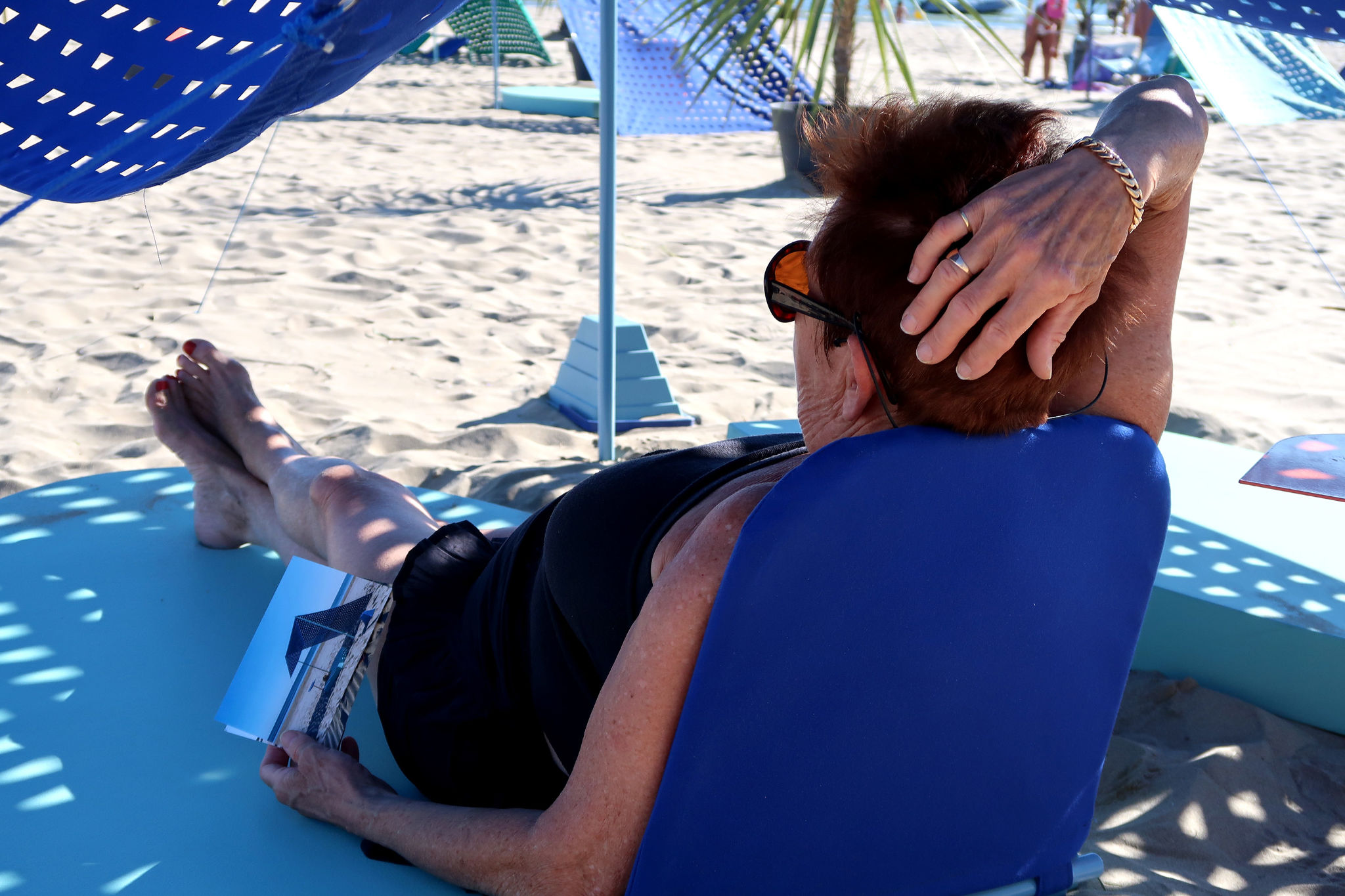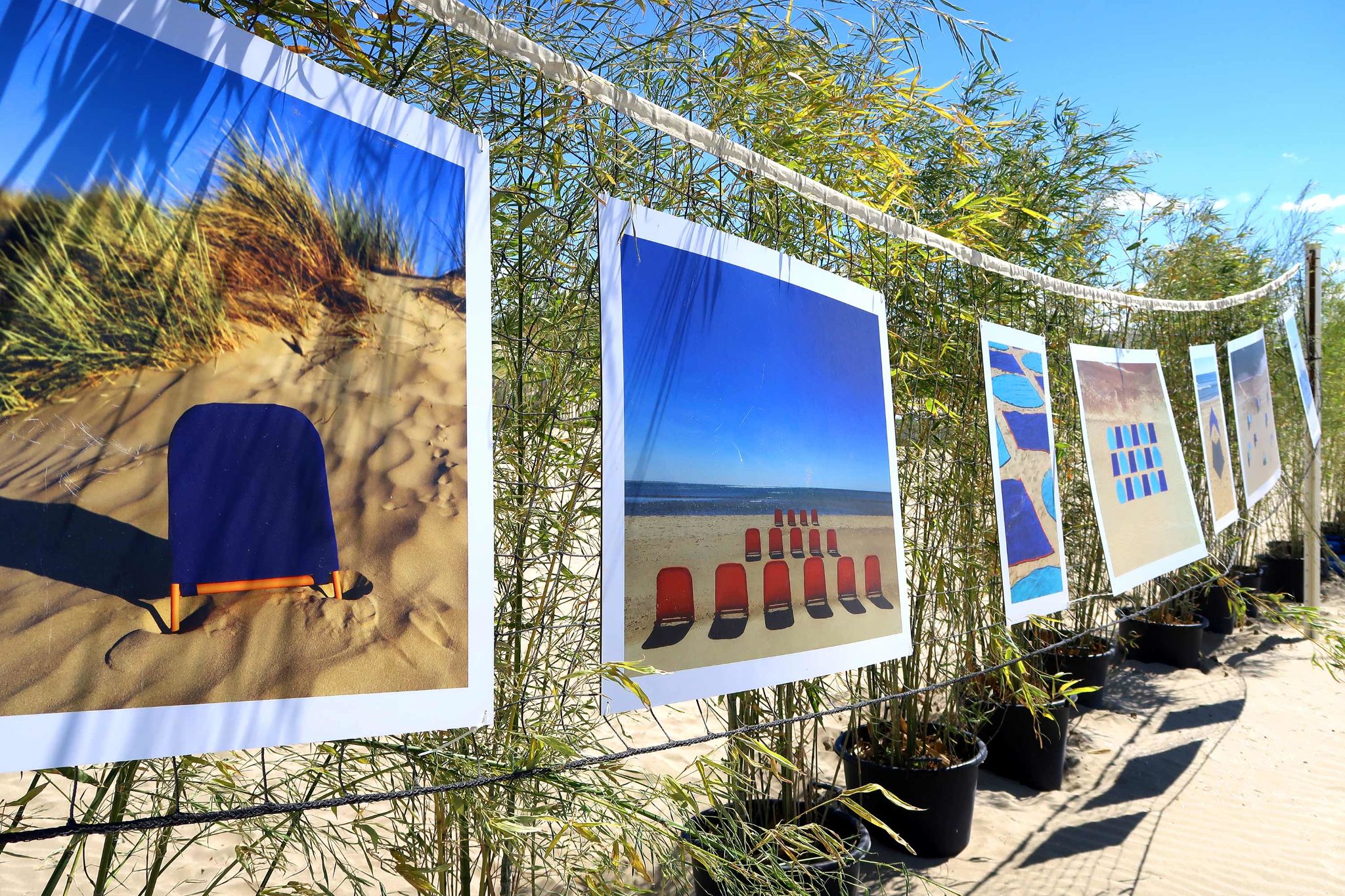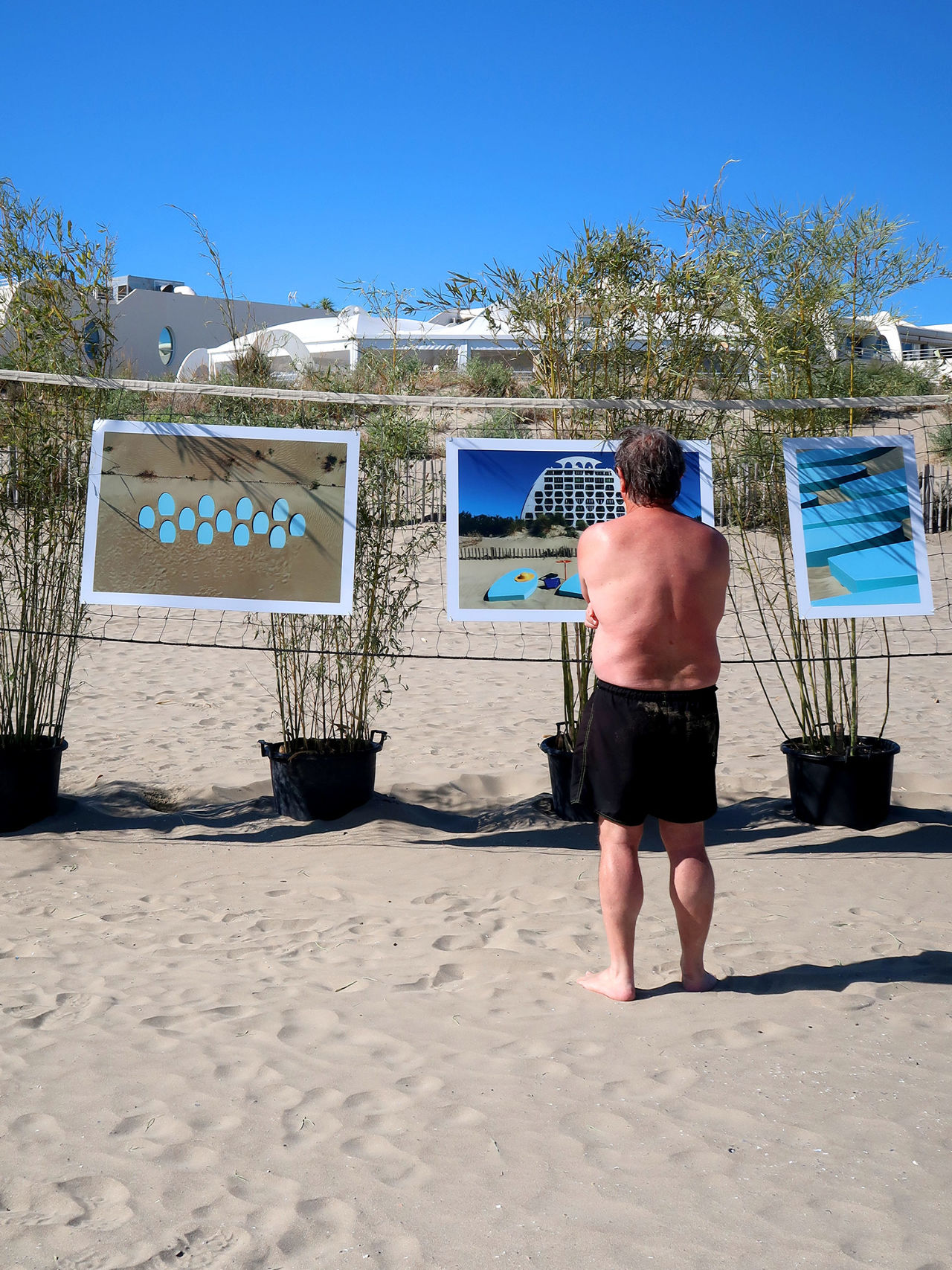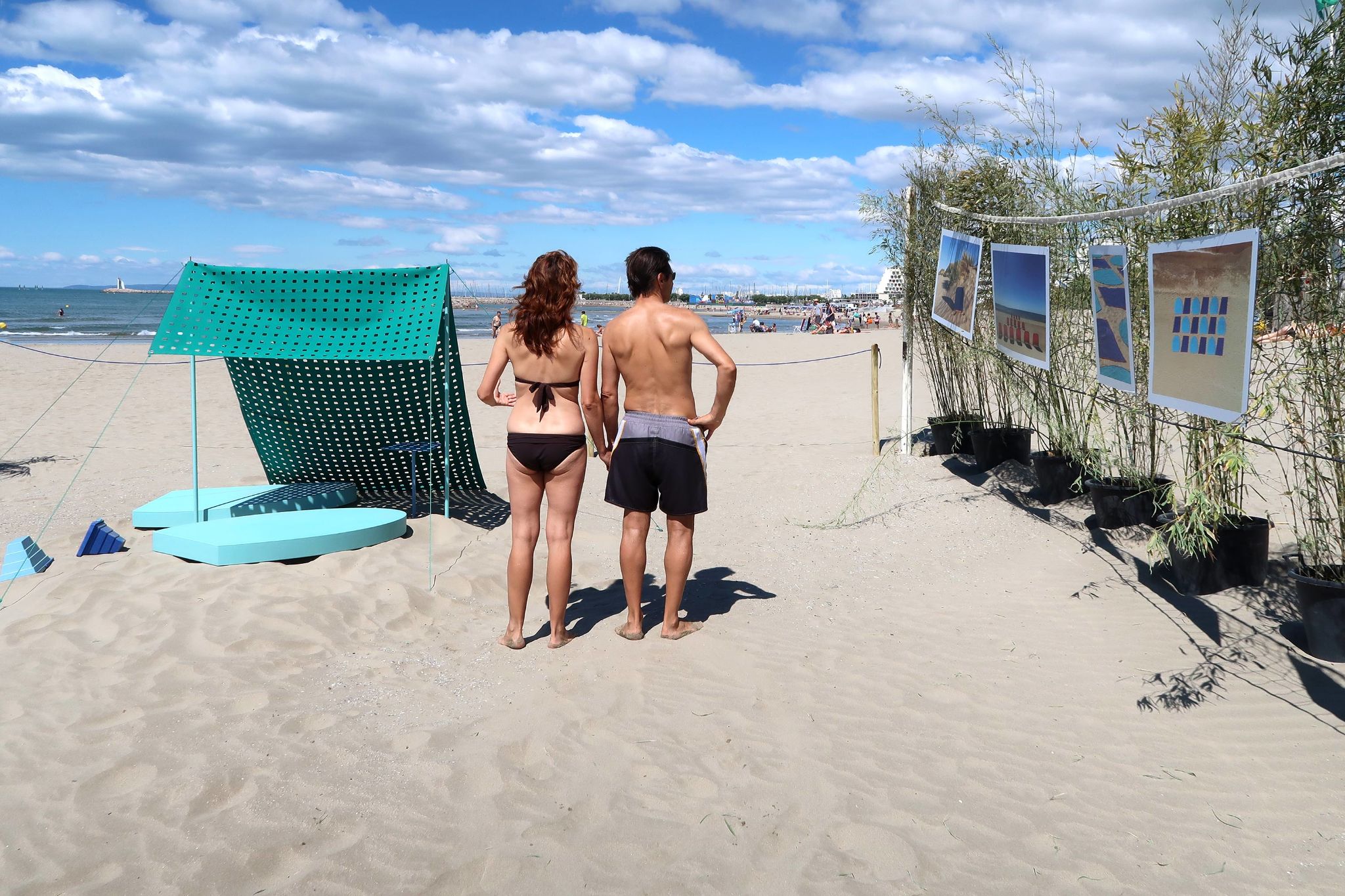 As designers, we intended to create a series of objects in line with Jean Balladur's project and that would contribute to reinvent seaside holidays. We decided to work on iconic seaside accessories, the very symbols of holidays for all. Beach mattresses, parasols, towels, buckets, deckchairs are revisiting this popular lifestyle.
 "More than a tribute, a continuity in his work"
 Our intention was to work with the plain shapes left by the empty spaces of the famous modénatures (moulded and repeated pieces forming fishnets and pacing the front of buildings). La Grande Motte forms a coherent whole in which opposites live in harmony. Light and shadow, concrete and garden city, the feminine curves of the Couchant district opposed to the masculinity of the city centre… Through our project, we perpetuate these contrasts: we oppose a "negative" landward side with a "positive" seafront defined by our beach equipment. It is a way to pay tribute to the work of Jean Balladur and to make this collection part of the heritage of the city.
Beach Pyramids: set up on the beach, these parasols resonate with the pyramidal buildings of the city.
Like a canopy perforated with modénatures' shapes, these shelters mixing shades and lights project the buildings' silhouettes on the sand. The shade clothes are made with Dickson textiles.
 Sand Pyramids: better than sandcastles, this bucket allows children to reproduce the city's pyramids
and play the architects' apprentices on the beach. Positioned on these architectural sandcastle, the shells suggest the iconic modénatures of La Grande Motte with a touch of humour.
Acapulco Backrests: easy to stick in the ground, the Acapulco Backrest improves your comfort and offers you an experience close to the elements. Its design is inspired by the modénatures of Acapulco's building; it is also made with Dickson textiles and offers a smart alternative to the traditional deckchairs increasingly covering the seaside beaches.
Towels Le Provence: reproducing the graphic shapes of Le Provence building, this pair of towels 'made in France' offers a generous surface on the ground to relax, alone or accompanied.
 Poseidon Mattresses: derived from the bishop's bonnet which inspired the building Poseidon, this beach mattresses made in polyurethane moss offer comfort feet in the sand.
 Grand Mottois Tables: these small side tables made with painted metal can be stick in the ground to protect personal belongings from the sand.